After spending the last several years in Texas playing solo gigs and with the Merry J. Pranksters trio, I have made my way north to Weston, CT where I am getting back to my New England roots and looking to settle in to the music scene and book new gigs. I still am happy to do solo shows, but I am also currently playing in an acoustic trio, Ol' Moose and Friends, with Alysia Love on violin and music veteran Dan Bonis on mando, lap steel, and dobro.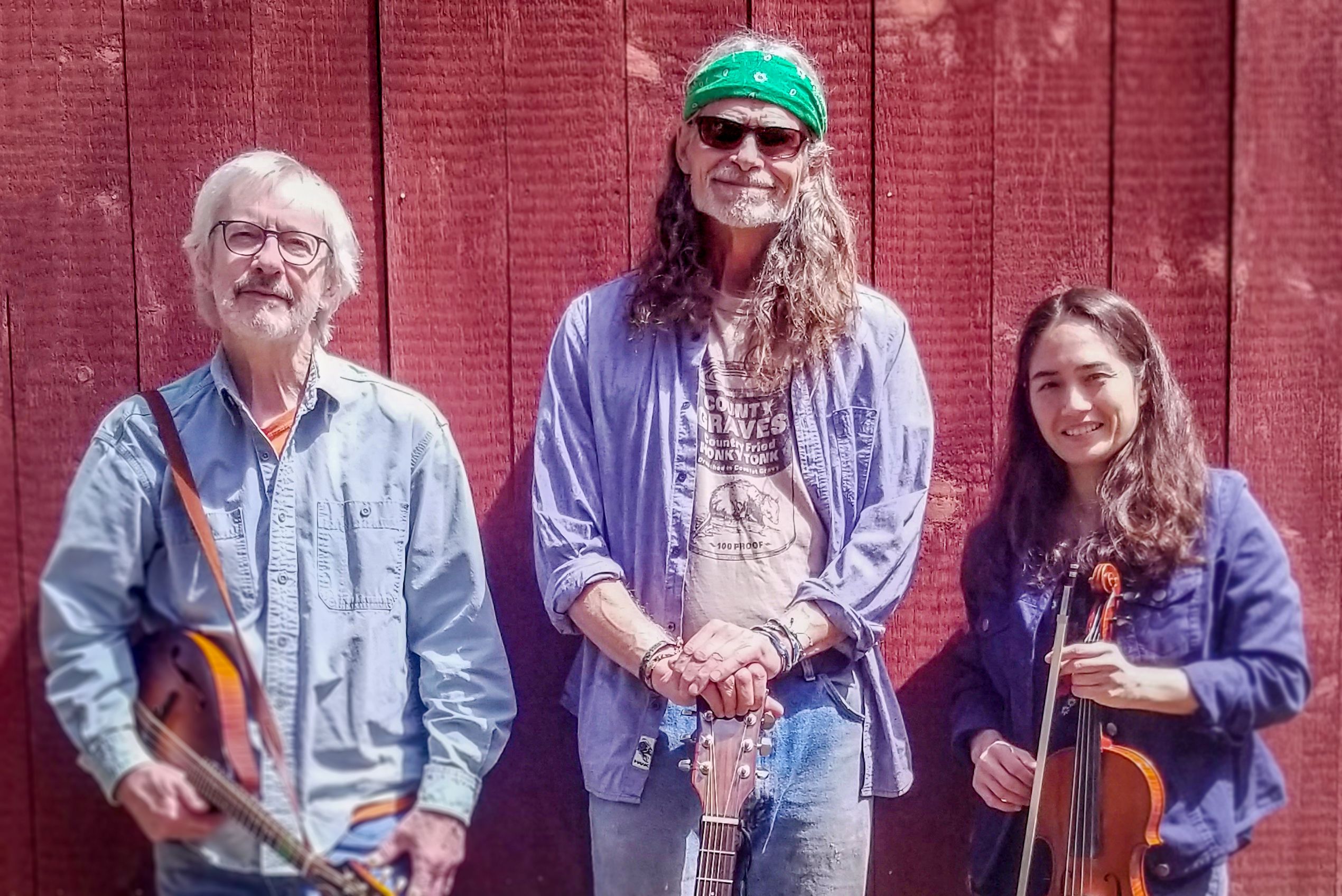 As a trio, we can play quiet brunch music, good-time happy hour music, or a full-on bar set. Our rates are more than reasonable and we've had good responses to our music in each setting.
For my solo work, I am also planning a few trips for the spring and summer--back to Illinois to play some fun winery shows, and perhaps some shorter visits to Boston and Vermont. I also have a throw-back show at Godfrey Daniels Coffehouse in Bethlehem, PA where I played years ago with John Gorka and Richard Shindell. I will be joined there by old bandmate Russ Rentler and my talented nephew Alex Radus. Hopefully, my old friend Dave Fry, founder of Godfrey Daniels, will join us on a tune or two! Meanwhile, you can catch me (and friends) on the
Ol' Moose Happy Hour on Twitch
on most Mondays from 6-8 pm (EST)--and random other days and times. Keep an eye out for new events over the next few months.

 
Behind the Name
The musicians Ol' Moose used to play with in the early days had a flatbed truck and they would haul out an upright piano, strap it to the wall of the flatbed up by the cab, and would drive around and play music off the back of the truck. This was before you could get in trouble for that early hippie stuff! Because Moose was working at a sawmill at the time and could lift stuff pretty well, he would get one end of the piano by himself so they started calling him Moose. As he got older, it became Ol' Moose.

Ol' Moose / Bone Dry River Band/ Transcendental Cowboys 
 
From the Carbondale Nightlife - 9-25-2014
Written by Brent Glays
 
Ol' Moose Season: A New CD from the Bone Dry River Band Guitarist
If there is a time of year to get out and enjoy Carbondale's beautiful landscape, autumn is it. The wineries and restaurants are surrounded by bluffs and hills that change colors, and with the right music the experience can be surreal. Thankfully, a local musician appreciates this and plays quite often. In the classroom he goes by Dr. Doug Anderson; on the stage he is known as Ol' Moose.
Moose has just released a new CD, This Darkness Inside. Expect to hear some of the songs from that album at numerous upcoming live performances. Solo shows include Wednesday, October 1 and Wednesday, October 15 at Rustle Hill Winery and Saturday, October 25 at Owl Creek Vineyard. He plays in the Bone Dry River Band Friday, October 3 at Walker's Bluff and Saturday, October 11 at StarView Vineyards.
Anderson has taught philosophy for more than thirty years— nearly a decade of which has been at SIU. His love for music is the basis for his work and is a fundamental part his lectures.
"I study a lot of philosophy of pop culture," Moose says. "I mean, I can do the technical logic and stuff, but I'm not so interested in that as how our beliefs affect the way we construct a culture, community, or anything else, whether it's religious beliefs or metaphysical belief, moral beliefs— all those things— how they affect what we do and are influenced by what we do. For example, most young people— if you talk to them about philosophy, they don't know what it is. If you ask them what they listen to, musically, they'll tell you what they listen to and then why, you know, [whether] it's country music or hip-hop, there are things in there that they identify with, and I try to tease out the doctrines of beliefs that are hidden in those sorts of things. So there is a relationship. I don't fill a lot of philosophy with my lyrics— that would just lose people— but my life is built into my lyrics."
Moose started playing the harmonica when he was fourteen. He learned guitar the following year.
"I just hung out with people who played and taught myself," he says. "There was no Youtube in those days, so I watched what other people did and listened to what I could hear on the records and started playing a lot.... I started off just playing blues harmonica for local blues players in New England, Vermont, New Hampshire, Massachusetts, and then for people traveling through— we had mostly coffeehouses back in those days, you could bring your own wine and beer.... So that's where I started. I started playing guitar— solo shows, what you would call singer/songwriter back then, and I also played with a couple local bands when I got to college. I started a band with two guys who are quite well-known in the folk singer/songwriter genre, and that's John Gorka and Richard Shindell."
Along the way, he also picked up a nickname.
"We used to have a flatbed truck and we would haul out an upright piano— strap it to the wall of the flatbed, up by the cab— and we would drive around and play music off the back of the truck. This was before you could get in trouble for that early hippie stuff, and I would get one end of the piano, because I was working at a sawmill at the time, and was more like 220 pounds— I could lift stuff pretty well; I was a lot bigger than I am now— so they started calling me Moose. As I got older, it became Ol' Moose. In the music world, I was always Moose."
Since 2005, Moose has been playing solo, with friends, his son, and in various bands in Carbondale. Venues range everywhere from PK's and Tres Hombres to Fat Patties to the wine trail. He blends folk and blues and country, and he's got many long setlists to choose from, but he prefers to play to the audience by taking requests. Stumping him is not easy.
"Music is evolving all the time, so you have to stay as current as you can," Moose says. "I try to see what audience we have, then try to angle what we're doing in the direction of the audience, because you never know. PK's is completely different than Rustle Hill."
One of the groups Moose plays with is Bone Dry River Band.
"Bone Dry River Band was started when I first came down here— actually it was Randy Auxier's band, my colleague in philosophy, and Randy did a lot of singer/songwriter stuff and had a little band which he called the Bone Dry River Band after a song from David Carter— a lyric from a song— and so when I joined we made it more rock, country, covers. We cover everything from blues to folk to country music. We just opened it up to all kinds of Americana music and didn't leave anything out."
Moose and Auxier also play in a duo, the Transcendental Cowboys.
Listeners can stream Moose's originals, including "Mason Jar Whiskey" and "Stoned Alone," at Nightlife's web project at <http://www.CarbondaleRocks.com>.
"I started writing as a kid, started writing poetry and sort of never stopped," Moose said. "I didn't get a chance to record anything until I moved down here back in 2005. Put together two CDs with a bunch of local musicians. I'm currently working on a couple more. I just kind of wander through them slowly, work over at Misunderstudio in Murphysboro, but I'm not in any hurry. I've been working on these songs for a long time and I am taking my time. I have some really talented local musicians working with me.... I've never been able to sound like anyone else, I just like to listen and sort of inherit the tunes and make it so I'm comfortable with how it sounds.... Southern Illinois has an amazing music scene. I've played all over the country, and some in Europe, and this area has musicians that tend to work together, help each other, and that's pretty rare."